---
Ashland Oil Explosions & Fire
200 Fairbank Avenue
---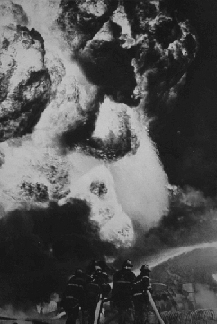 May 14, 1973
The explosions and fire at the Ashland Oil chemical plant near Dufferin and Castlefield probably had the most potential for disaster of any fire in York's history. The call came in at 12:54 p.m on May 14, 1973, and crews remained on the scene until 5:13 p.m. on May 17th. Cars 6, 7 and 8, Rescue 10, Pumpers 1, 2, 3, 4, 5, 9 and 12, Aerials 1, 2, 3 and 4 and ladder 5 all attended. Forty-two on-duty men responded, and twenty-four were called in from off shift. North York also attended with one car, four pumpers, an aerial and twenty-one men.
The following equipment was used: 100' of 3" hose, 12,700' of 2 1/2" hose, 1,150' of 1 1/2" hose, 127 ' of ladders, 3 deluge sets, 1 turret nozzle, 1 chain saw, 1 Stihl saw, and 3,200,00 gallons of water. In four days on the scene, only six SCBA were reported used.
Four employees were killed in the fire. One was recovered on the 14th, two on the 16th and one on May 17th. Only four people were sent to hospital with injuries from the explosion and fire.
The casualties could have been much worse. Several employees from the site, and from offices at a neighbouring construction company, took advantage of the nice day and went out for lunch as the first explosions occurred.
Huge flames and fireballs involving mixed chemicals, plant materials and building materials churned toxins into the air in mushroom clouds of smoke. There were frequent explosions projecting 45 gallon drums of unknown chemicals high into the air. Five railway tank cars were also destroyed in the fire. Exposures and toxic runoff added to the problem.
Damages at the Ashland plant were estimated at $1,100,000 building and $1,000,000 contents. A neigbouring construction office suffered $12,000 damage to their buildings and $50,000 loss for contents.
After the report several years later from the Occupation Disease Panel suggesting that several cancers are more prevalent in fire fighters than the rest of the population, many York fire fighters believe that this hazardous materials incident may have been to blame for several cancers suffered by our members. All available on and off duty fire fighters responded to this call. A rash of liver, kidney and brain cancers began to spring up in active and retired York Fire Fighters ten to twenty years after this event.
Unfortunately, there is no conclusive way to connect this event to the diseases. However, it should underscore the importance of documenting, and taking all precautions at hazmat incidents.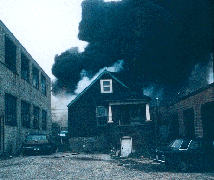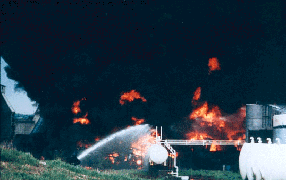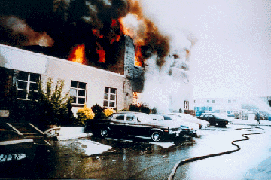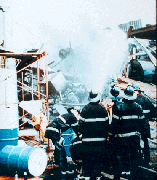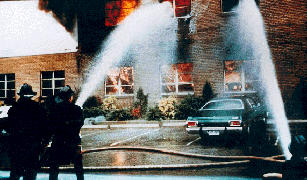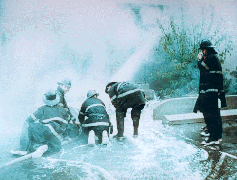 More pictures of the Ashland Fire are available at the York Fire Photo Album